TCL TV light blinking twice because it is stuck in standby mode. To take your TV back out of this mode, you must know the real reasons and troubleshoot it.
However, the easy way to settle 2 times power light flashing problem of your TCL TV are:
Power cycle & Factory reset your TCL TV
Check the network speed
Paired the remote with your TCL TV
Update Your TV
Inspect the backlight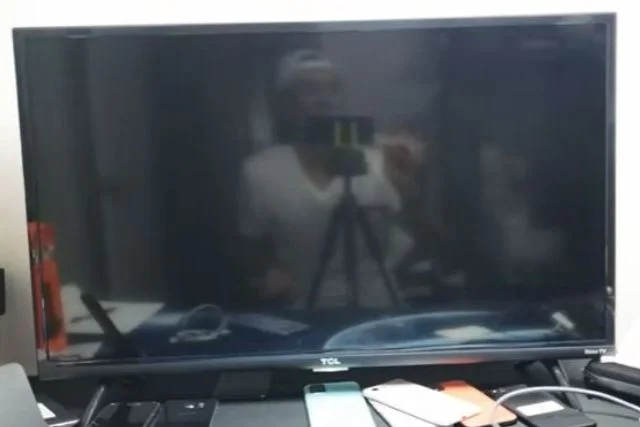 Anyway, you will surely learn all these solutions in detail by going through today's guide. So without further ado, get going into the main discussion:
Table of Contents
TCL TV Light Blinking Twice [Reasons + Solutions]
The easy ways to fix the power light blinking issue on your TCL TV are:
Note: You can also read our guide on why rolling horizontal lines on tv screen tcl and how to fix it.
1. Power Cycle Your TV
The power light of your TCL TV blinking twice means it is stuck in standby mode. So to get your TV out of this mode, first power cycle it.
Power cycling your TV is similar to resetting the unit. The only difference is during the power cycling, you must disable your TV power connection from the outlet. However, the easy steps to power-cycle your TV are:
Turn off your TCL TV first. Then from the electrical socket, unplug your TV cord.
Leave your TV in power off condition for 30 – 60 seconds.
Then after waiting, re-plug the cord again in the socket.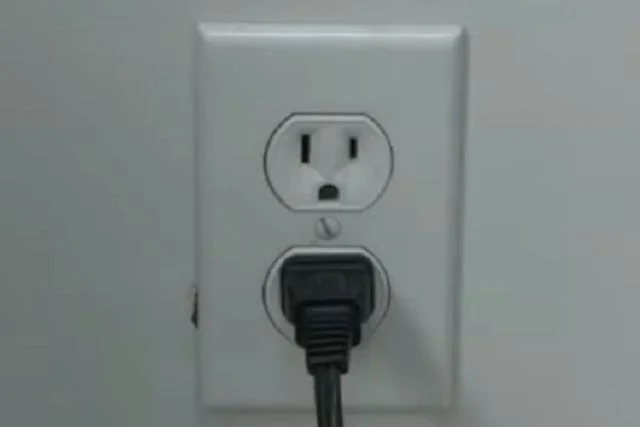 However, to ensure a proper TV reset, we suggest you hold its power button for 10 seconds. Don't use your remote control buttons to drain the residual energy from your TV.
2. Factory Reset Your TCL TV
When your TCL TV blinks, the unit is turned off, and you won't access the various menu options, how will you reset your TV? Well, you can still perform factory reset operations while your TV is off.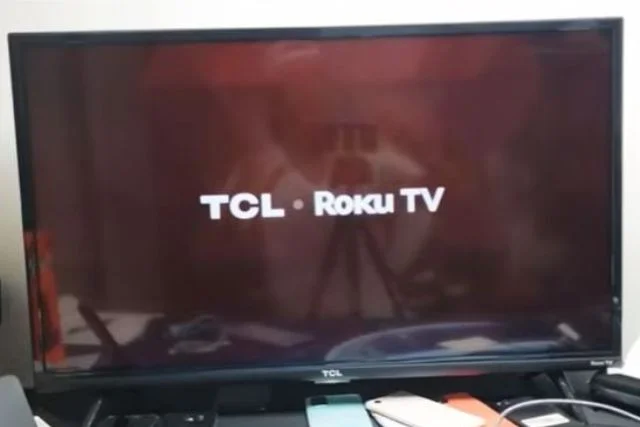 The easy steps to Factory reset your TCL TV are:
You will find a recessed RESET button on your TCL TV connector panel. Now using a ball-point pen or straightened paper clip, press the reset button and hold it.
For approximately 10 – 15 seconds, hold the reset button continuously. Once the reset finishes, your TCL TV's status indicator will dim.
So, now leave the Reset button. And your TCL TV is powered off now.
After completing the above steps, start your TV.  And repeat the above-guided steps re-linking your Roku account, reconnecting to the internet, and reloading to the streaming channels.
3. Check The Network Speed
Slow or disturbed network speed can cause the white light to blink twice on your TCL TV. When your TV tries to find a stable network connection, its power light blinks.
The first solution to this trouble is to Factory reset your TV. When resetting doesn't change the situation, check the network speed on your TV. When your TCL TV is connected to the internet, we recommend you notice the internet performance.
Usually, the bandwidth performance becomes poor when it supports many users. So you better try to switch to another network if possible. But before that, you must disable the network functionality to prevent the blinking light on your TCL TV.
After removing the internet connection, examine the light flickering behavior of your TV. If it stops, that means the unstable network connection was causing it. And to ensure the constant working of your TCL TV, you must maintain a stable Wi-Fi connection.
4. Paired The Remote
Your TCL TV screen is working fine. But its power light is still blinking twice because of the disconnected remote. This is a silly reason, but often we overlook it.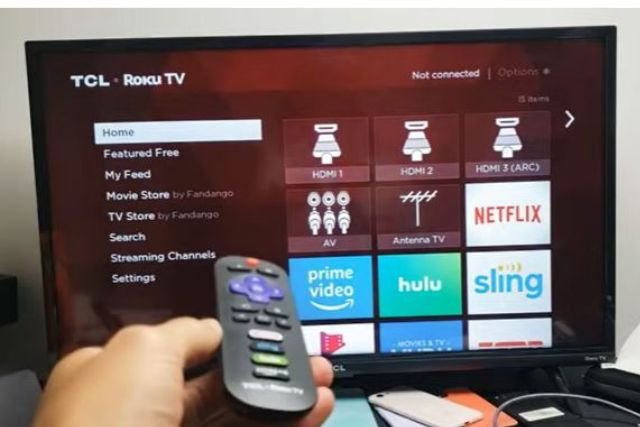 Therefore to fix the flashing light, we recommend you inspect whether your TV remote is paired with your TV. Your TV remote can get unpaired from your TV for no reason.
So, when you find it is unpaired, we suggest you conduct a power cycle. After completing the power cycle, turn on your TV and press any button on your remote.
In case your TV still fails to respond, then for 10 – 15 seconds, press and hold the pairing button. While pressing your TV remote's home button, stand close to your TCL TV.
5. Update Your TCL TV
After pairing the remote with your TV, if the power light blinks twice slowly, that means your TV is out of date. The simple solution to this is to update your TCL TV.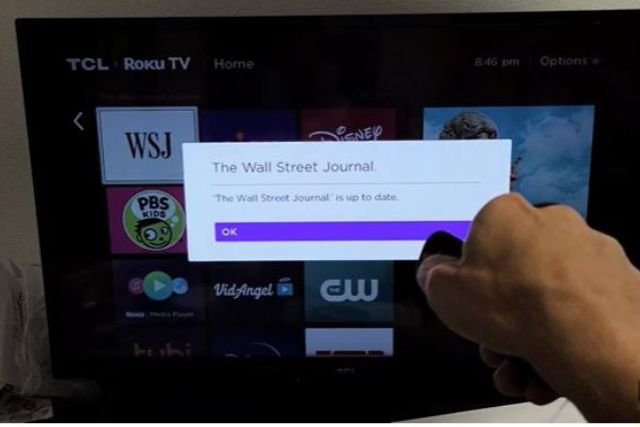 To update your TV, follow the easy steps below:
Navigate to your TV "Settings" using remote
Then select "System."
After that, to begin your TV updating process, click "Update System."
While updating your TCL TV, ensure it is connected to the internet.
6. Inspect The Backlight
When your TCL TV keeps blinking still after following all the above solutions, that indicates the unit may have a malfunctioning backlight.
The potential causes of backlight malfunction are sudden power surges, voltage changes, or broken backlight.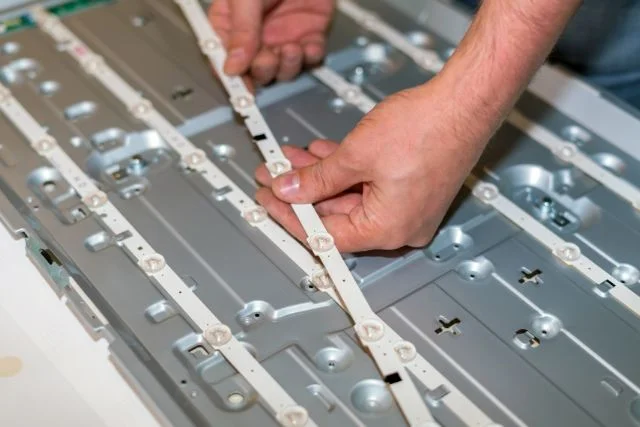 So to fix this trouble, begin by inspecting the backlight on your TCL TV. In case you find it's bad, you must replace it. Also, install a voltage stabilizer in your home to tackle sudden voltage fluctuations and power surges.
Note: In case you aren't mechanically inclined, it's better to contact TCL TV Customer Service or an expert electrician. The trained and expert TCL support staff will fix your TV power-light flashing hitch.
What If Everything Fails
After following all the resolving ways mentioned above, verify whether your TCL TV power light still blinks 2 times again. If so? Then it's better to contact the TCL TV Support Center to solve this error.
FAQs:
Why my TCL TV won't turn on?
Due to the disconnected TV cord from the power outlet, damaged outlet, defective main board, and power board, your TCL TV may fail to start.
How do I force restart my TCL?
To restart your TCL TV, first, take your TV remote and press its Settings button. Afterward, go to More Settings > Device Preferences > About > Restart.
What is the common problem with TCL TV?
One of the common hitches that TCL TV users often face is the TV's inability to connect to the internet.
End Note:
Hopefully, this comprehensive guide on TCL TV light blinking twice has been helpful for you. Now if you face such trouble, we recommend you fix the unit following our suggested solutions. But in case you fail to get the job done, it's better to take help from the TCL TV support center.
Feel free to comment if you want to know more about TCL TV. We will soon reply to your query.