Hitachi TV is one of the technologically superior products for consumers across the world. As for technical devices like TV, the remote control is a very convenient thing to access the features of the Hitachi TV. But anyhow if the remote is lost or broken, you can control the TV even without it.
Accomplishing specific tasks like turning the TV on, tuning, and volume control can be done without a remote. Especially, you can change the TV inputs to the respective input even in the absence of your Hitachi TV remote control.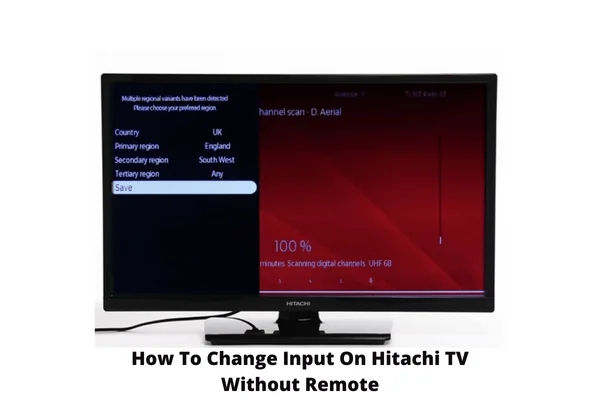 Here we're going to discuss the steps by which you know how to change input on Hitachi TV without remote easily. So, just read through the comprehensive article. 
Table of Contents
How To Change Input On Hitachi TV Without Remote [3 Easy Methods]
To have the answer to how to change the input on Hitachi TV without a remote and for better solutions, read the article till the end.
Note: You can also read how to change the input on Toshiba TV without remote.
1. Change Input Via Control Buttons
The fastest way to change inputs on a Hitachi TV without a remote is via control buttons located on your Hitachi TV model. 
If you look closely at the back panel or the side of your Hitachi TV, you can locate some buttons labeled as the "Power", "Menu", or "Input/ Enter" button.
These control buttons allow you to control basic functions like the Volume or Program or Standby On functions of the TV without a remote control. 
It also allows changing the input settings on your Hitachi TV to respective inputs by using the Input/Enter button.  
How To Change Input By Input Button On Hitachi TV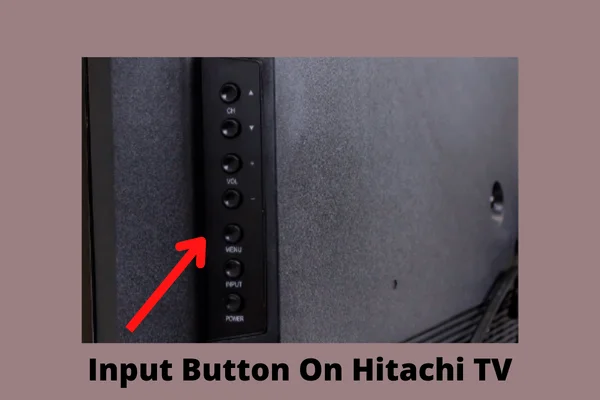 To attempt the process, try the steps as follows. 
First, locate the Input or Enter button on your Hitachi TV. It'll be on the back or on the side depending on your TV model.
Press the button, and the source list will appear on the Hitachi TV screen. 
Scroll through the available source options and select your respective input.
2. Change Input Via Mobile App
If you're wondering, can I control my Hitachi TV with my phone, and can change the input, it can be easily done by mobile apps. 
It's always a good and simplest way to use your smartphone as a remote gadget to control all the Hitachi TV.
By accessing these remote control apps, you can convert your smartphone into a remote mobile that works the same as a Hitachi TV remote control. 
There are many available apps for this purpose on the Google Play Store like Remote for Hitachi Smart TV or Hitachi TV Remote Controller or more to control the TV via smartphones.
As these apps can be used the same as the remote control, it's obvious that you can also change inputs on your Hitachi TV.
How To Change Input By Using A Mobile App
Check out the below steps to change input by the mobile app: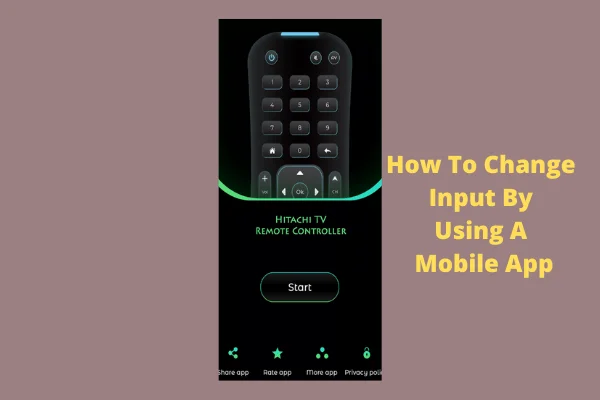 Open the Google Play Store on your smartphone.
Search Hitachi TV remote and the available apps will appear. 
Download and install the remote app and open the app. 
Ensure your Hitachi TV is turned on and your TV is connected to the same Wi-Fi as your smartphones. 
Now point your phone directly to your TV and use it as your remote to change the inputs on the Hitachi TV. The smartphones have IR blasters that can be used as spare remotes. 
3. Get A Universal Remote
 You can get a universal remote to access your Hitachi TV in case you have lost the original remote provided by the TV company and are looking for a pricey replacement. These universal remotes can be used as a Hitachi smart TV remote replacement. 
Whenever the thought comes, do universal remote work on a Hitachi TV, and get a surety that all the Hitachi TV models can be accessed by these universal remotes.
Almost every universal remote uses Infrared which has the same signal protocol used by remote manufacturers. These remotes are also able to support a larger number of technical devices.
So, you can get a universal remote to get its multipurpose benefits and for changing the output setting of Hitachi TV as well. 
How To Program Universal Remote On Hitachi TV
By following these steps, program your universal remote by using a keycode: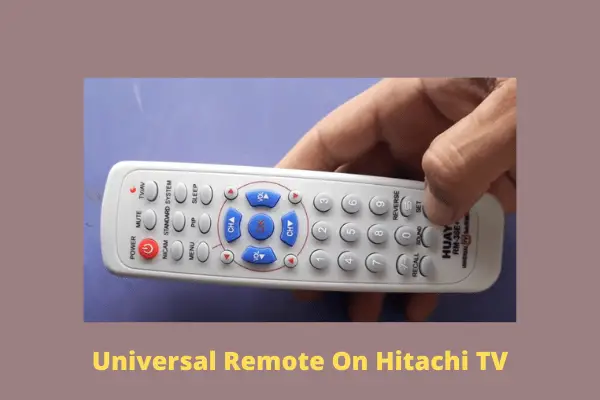 Turn on your TV.
On your universal remote, press the "TV" option.
Press the "Setup" button on your remote, and hold it till the light flashes. It means now it's in learning mode.
Enter the key codes which you have collected from the programming guide. 
Now point your remote to the TV, press and hold the power button, and release it whenever the screen switches off.
For Your Ease, Here Are The 4 Digits Codes For Hitachi TV
1065
1010
1004
1087
1009
1008
1113
1057
1013
1078
1128
1114
1053
1115
1083
How To Change The TV Input With A Firestick Remote
It's an exciting matter that users can change TV input using a Firestick remote. You can change the input of your TV whether using Firestick, Fire TV, or a Fire TV Cube whatever you have.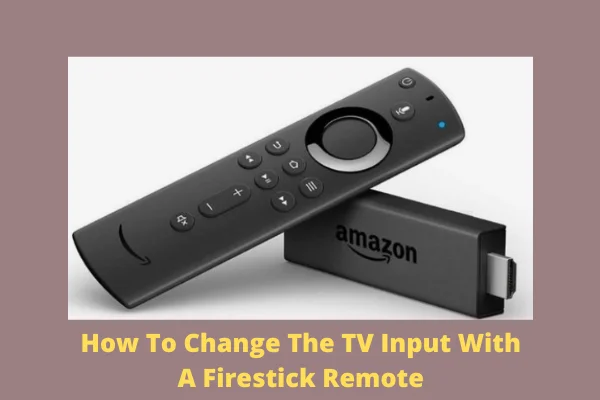 But to do so, the only condition is that your Firestick remote must be the 2nd or 3rd-generation Alexa Voice Remote and should have a Power button on the top. 
With the correct remote and settings, you will be ready to switch inputs on your TV. Just look through the below settings steps.
Go to your TV Settings and select "Equipment Control".
Now select the "Manage Equipment" option and then the "TV" option.
Select "Input Switching", and the setting will configure correctly if it says "Navigate Up + Down."
You're all done! Now take your Firestick remote, and hold down the microphone button. 
Now say the input name where you want to switch.
Release the button and point it to your TV. Your TV will switch to the respective inputs.
FAQs:
How do I change HDMI on Hitachi TV?
Press the HDMI button to directly access the HDMI Inputs. Press the Input button to change the inputs. To direct access to any channel of the TV, select Direct Channel Selection Buttons (0-9).
Can a Hitachi TV be used as a monitor?
To use Hitachi TV as a monitor, connect your computer to your TV with an HDMI cable. Now go to the Monitor Settings on your PC and select Project To A Second Monitor.
Can you cast a Hitachi TV?
You can cast Hitachi TV by using the AirBeam TV app. Once you download the app, your screen will display wirelessly and directly to your TV without using any cable.
Final Thoughts
We're going to wrap up this article with the hope that you won't find any more trouble while changing the inputs on your Hitachi TV, even without a remote control. 
Expectantly, our article is quite informative and easy to understand that no more query needs to be searched. Anyhow, if anything is left behind, be quick to inform us. It'll be great if you also inform us how our article has worked out. We're looking forward to your precious review.