TV's severe hardware issues, malfunctioning SSB tuner board, and TV being in Standby mode are the major culprit for which your Philips TV blinking red light 5 times. Whenever your Philips TV starts flashing the red light, you need to soft reset or factory reset your TV. 
Also, you should check your TV's internal hardware components and replace the faulty parts. Replace the defective SSB tuner board and turn off your TV's standby mode. Hopefully, your TV's red light flashing will disappear.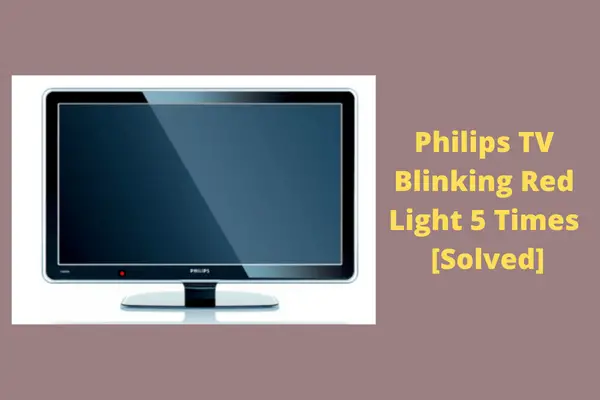 Now, why did your TV's hardware get damaged, or how can you solve your SSB tuner board's issue, you will get to know all these by going through the following article. So keep reading the article till the end.  
Table of Contents
Philips TV Blinking Red Light 5 Times [3 Easy Solutions]
After turning on, your Philips TV runs for a few minutes, and then the TV's power light goes off. Then in a row, 5 times, the red light flashes on your TV. Sometimes your Philips TV can generate a clicking sound with the blinking red lights. 
The major factors responsible for this hitch on your TV and their quick solutions are explained below: 
Note: You can also read how to fix Philips TV Blinking red light 4 times.
1. Severe Hardware Problem
Severe hardware damage causes your Philips TV LED to blink codes. If any of your TV's hardware, such as the motherboard, power supply board, or T-con board, gets damaged, your TV will go through different issues, like a red light flashing, black screen, flashing screen, etc.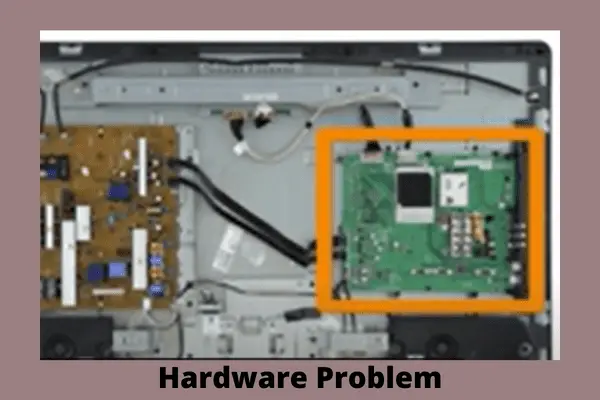 Usually, your TV's internal hardware become malfunctions for the following reasons: 
Power surge 
Faulty light valve 
Defective logic board 
Motherboard and power supply board malfunction 
Blown fuse 
Defective capacitors 
Bad Audio PWB 
Damaged cables 
Electricity frequency variation 
Solution:
In general, to solve the above troubles, you need to replace or repair your TV's defective light valve, bad logic board, faulty power supply board, malfunctioning motherboard, or a blown fuse.
Also, replace the faulty capacitors, damaged cables, and bad audio PWB. And install the dynamic voltage stabilizer to tackle the power surge. 
If your Philips Plasma TV has a severe hardware problem before replacing the defective components, you should follow the ways below to fix it. 
Disconnect the Audio PWB and Main Power Supply board connection and the SSB and Audio PWB's connection 
Disconnect the Audio PWBs with every plug. (The Audio PWB is a small board of 6×3″ and usually it is located at your TV back panel's top right)
Now power on your TV and make sure your TV is initialized.
Now using the remote control, go to the Menu setting and then turn off your TV.
After turning off the TV, give the antenna connection to the TV and turn it on again. 
Surprisingly, after completing the above steps, your TV will work again, the red light blinking will disappear, and your TV will produce quality pictures and sound. 
Note: After following all these steps, if you still see the dreaded 5 red light flashes on your TV again, you should replace your TV's faulty hardware. 
2. SSB Tuner Board Malfunction
The faulty SSB tuner board not only causes a flashing red light on your TV but also causes your TV's picture reception problem, TV fails to tune a specific channel, or the channel changes randomly. The faulty component or input in the SSB board can cause its malfunction.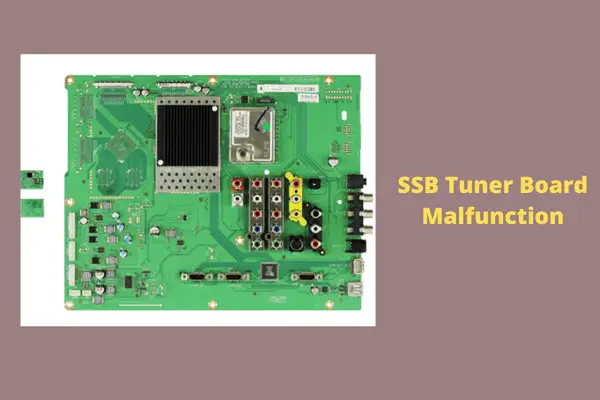 Due to the heat or cold, the crystal in the board is turned on, and the board starts malfunctioning. The leading causes of it are: 
Stuck crystal on the board 
Broken or physically damaged SSB tuner board 
Faulty circuit diagrams 
Solution:
Check and replace the defective circuit diagrams and physically damaged or broken SSB tuner board. By heating and cooling the stuck crystal of the SSB board, you can solve your TV's 5 flashes error message, and it will normally power up again. 
Whenever the board's crystal gets stuck, spraying it with heat or cold air can resale it. To fix your SSB board's stuck crystal, follow the steps below: 
Find out the SSB board, which is located behind that board that is covered with a shield. 
Now, find out the damaged component in the board. 
For a couple of seconds, spray cold air on the damaged or corrupted component and plug the power cord back into the TV. 
After completing the initialization cycle, your TV will turn on. After turning it on, it can shut off automatically. 
Again use the remote or manually power back on your TV, and the 5 times red light flashing will disappear. 
3. Active Standby Mode
You turned on your Philips smart TV, its LED light is on in its front, but your TV is not turning on, or its screen is black. This means your TV is in Standby Mode. Your Philips TV can blink the red light 5 times when it goes into Standby Mode. 
Solution:
Try to operate your Philips TV using a remote control to check whether the remote is working or not, and also check your TV's front LED light. Turn off your TV's standby mode. Now turn on your TV, but before that, soft reset or factory reset your TV to ensure its proper functioning. 
How To Get Philips Smart TV Out Of Standby Mode
Follow the steps below to get your Philips smart TV out of Standby mode and fix your TV's 5 times red light flashing hitch. 
Take your Philips TV remote control and navigate to your TV's Menu option 
Go to TV Settings and then select the Setup option 
Now choose the option "Preferences" and turn off your TV's "Standby LED" option 
You can also turn off your TV's Standby Mode without using the remote. Press the side power button on your Philips TV, and this mode will shift from On to Off. 
Note: If your TV goes through a severe hardware problem, then the red light can still flash 5 times even after turning off your TV's Standby Mode. 
How To Factory Reset Philips TV
Performing a factory reset on your Philips TV removes its glitches and bugs and ensures your TV's easy functioning. The resetting steps are: 
Grab your Philips TV's remote and press its "Menu" button 
Go to the "Settings" option 
Right press your remote control's ok button twice 
Then select the "RESET AV SETTINGS" option 
Press your TV remote's Ok button by choosing the "Start Now" option 
Again, press the Menu button to exit from the Menu option 
FAQs:
How do I unfreeze my Philips TV?
To unfreeze your Philips TV, you need to unplug all devices from your TV. Then restart your TV, exclude all the connected devices and test different electrical outlets. 
Why does my Philips TV keep turning off and on by itself? 
Your Philips TV keeps turning on and off by itself because of the active sleep settings in it. Also, the other factors responsible for it are the faulty power connection, damaged power cable, TV and electrical outlet's loose connection, and TV's internal hardware components. 
How do you work a Philips TV without a remote? 
Press your TV's Menu button on its front to activate your TV's Main Menu. For selecting the horizontal Menu items, select your TV's front "Volume" buttons (-) and (+). Again select your TV's vertical menu items using the "P/CH" buttons on the front. 
Why has my Philips TV stopped working? 
Your Philips TV stopped working due to the improper connection between the power supply box and TV, damaged cable, faulty internal components such as motherboard, power board, etc. The TV also stops working when you plug it into the power strip. 
Wrap up
So, at the end of this article, we can undoubtedly say that you now know all the major factors responsible for your Philips TV blinking red light 5 times. If you face such an issue, follow our already mentioned solutions in this guide. 
If you have anything to know further, ask in the comment section.  Our expert will answer shortly.