The major factors responsible for Toshiba TV no video signal are loose HDMI connection, selecting the wrong input source, and faulty HDMI cable. Also, the other culprits causing this hitch are your Toshiba TV failing to recognize HDMI and not using the satellite box or cable box's own remote. Any of these factors can cause the no video signal error message on your Toshiba TV.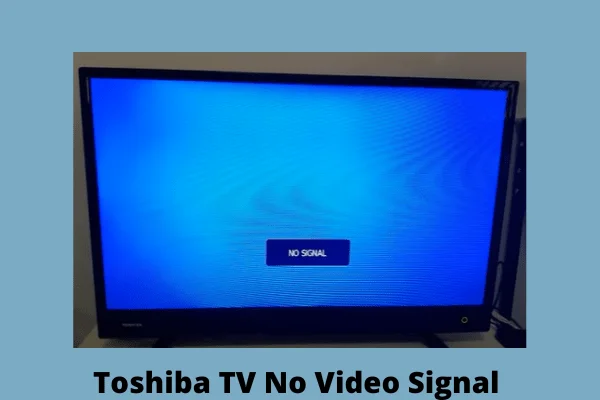 You should check the HDMI cable connection when your Toshiba TV displays the "No Video Signal message." Make sure the HDMI connection is tight enough, select the correct input source and replace the damaged HDMI cable. Also, make sure your Toshiba TV is perfectly recognizing the HDMI input.
By going through this detailed troubleshooting guide below, you will get to know about all the causes and simple solutions to this issue. So keep reading!
Table of Contents
Toshiba TV No Video Signal [5 Easy Solutions]
You turned on your Toshiba TV, and everything is working fine, but suddenly you may experience your TV displaying the error message "No Video Signal." The significant factors that are responsible for it and their effective solutions are: 
Note: You can also read how to change the input on the Toshiba tv without a remote.
1. Loose HDMI Connection
Loosening High-Definition Multimedia Interface (HDMI) connection on either the Display or Source end is a major reason why your Toshiba TV shows no video signal.
Whenever you need to move the cable slightly for any reason, the wires become disconnected from your TV, and it shows no input. Also, the open HDMI port causes a loose connection.
Placing thicker HDMI cables causes faulty connections. The thicker or poor HDMI connection fails to carry the signal to your Toshiba TV. As a result, it displays the "No Video" error message.
One of the leading causes of loose connection is plugging and unplugging the HDMI cable to the port frequently. The connection becomes loose because of the cable's frequent change or extreme use.
Solution:
Check your TV's HDMI cable connection and adequately plug and connect the cable to the right place. Also, check the HDMI cable's Source and Display end and make sure both the end's connection is tight enough. At each stop, disconnect and reconnect your TV's HDMI cable. 
Avoid placing thicker lines and don't plug or unplug your TV's HDMI cables to the port frequently. Check for the loosened HDMI port, and to tighten your TV's open port, do the following:
Turn the HDMI-equipped back panel of your Toshiba TV.
Locate the port and remove the current HDMI cable from the port
Immediately below or above the port, you will get the small Philips screw. Detect the screw and use the Phillips-head screwdriver to tighten the port clockwise.
2. Selecting The Wrong Input Source
Toshiba TV has no video signal message means your TV is not receiving a signal from your selected signal source or external input source.
If you choose the wrong input source, your Toshiba TV will display no video or image, and it will show this no signal error message.
Solution:
Go through your TV remote's Input option and ensure you have selected the correct input source for your TV. Press the remote's Input button, and you will get several input options. From there, select the HDMI port. 
When there are many ports available, then select the port according to the number. Also, focus on which service you are trying to use on your TV.  
3. Damaged HDMI Cable
The most obvious reaction of a damaged HDMI cable is your Toshiba TV says no video signal. It also causes inconsistent sound and color on your TV. Over time, your TV's HDMI cable can go wrong or become damaged.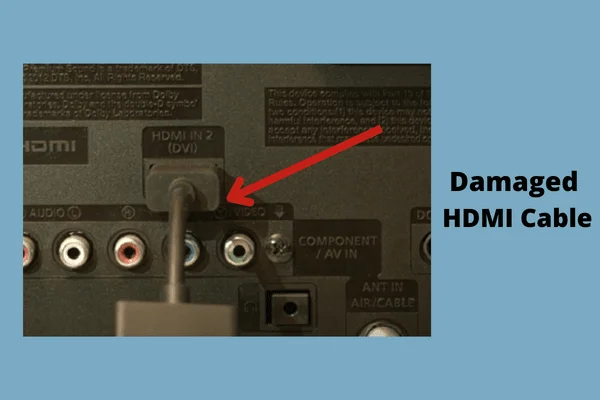 The corroded HDMI cable can also cause sparkle in your TV. The following factors are responsible for damaging your TV's HDMI cable.
Extreme force shear the HDMI cable into two
Corroded internal wiring  
Roughly plugging and unplugging the HDMI cable
Physically damaged or broken HDMI cable
Improperly maintained or damaged input connectors
Bending or coiling the cable
Solution:
Be gentle in using the HDMI cable in your Toshiba TV. If your Toshiba TV says no signal but everything is plugged in, you should check the HDMI cable which is carrying the signal to your TV.
However, if you find the faulty cable is creating this problem, you should do the following:
Replace the sheared cable, corroded internal wiring cable, broken HDMI cable, and damaged input connectors
Avoid frequently and roughly plugging and unplugging the HDMI cable
Properly maintain the input connectors
Don't bend or coil the cable
4. Toshiba TV Not Recognizing HDMI
Your Toshiba TV failing to recognize the right input is another reason you experience Toshiba TV with no video signal HDMI.
Whenever any HDMI stream glitches occur, your TV will show a "No Video Signal" banner, and then it will present a blank screen. 
The HDMI glitches include changing the TIVO box's video stream or turning on a DVD player. So the leading causes of it are:
Damaged or corroded HDMI cables
Toshiba TV's cable is disconnected
Selecting the wrong input channel 
The Toshiba TV's  HDMI port is not working
Poorly soldered HDMI input connector
Overheating HDMI signal board
TV's slow microprocessor fails to recognize the video inputs or numerous resolutions
Solution:
Your TV needs to recognize the HDMI connection to get a proper video signal. To ensure it follow the ways below:
Replace the physically damaged or faulty HDMI cables, defective HDMI port, bad input connector, and overheating HDMI signal board.
Check your Toshiba TV's HDMI cable and make sure it is properly connected.
Ensure your TV's HDMI port is working perfectly
Make sure you replace the slow microprocessor, and your TV's newly installed processor perfectly recognizes the video inputs and other resolutions.
5. Not Using The Satellite Box's Own Remote
The remote control is available with each satellite box or cable box. Now, if you change your Toshiba TV's channel using the remote control that does not come with the satellite box, your TV will display the error message "No Video Signal."
Solution:
For changing your Toshiba TV's channel, use the remote control that comes with your satellite box or cable box.
How To Reset Your Toshiba TV
You should first reset your TV if your Toshiba TV detects no video signal error. The easy resetting steps are:
Turn off your Toshiba TV and unplug it from the electrical outlet
Wait for 1 minute (60 seconds)
Re-plug your Toshiba TV back into the wall outlet, and the reset process will be completed
Now turn your TV on to see whether your TV is showing the same message or not.
How To Check And Select HDMI Input On Your Toshiba TV
After resetting your TV, if the problem still persists, you need to check your TV's damaged HDMI cable and replace it. For checking the HDMI input, follow the steps below: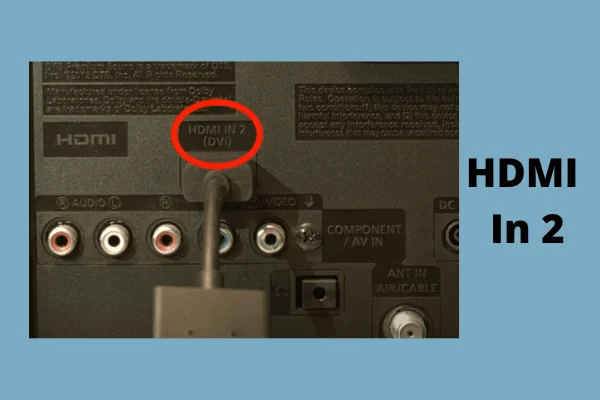 Look on your Toshiba TV's side or back and detect where the device is plugged in that you are trying to get to work.
Usually, you will get a note right above where your device is plugged in. The port shows you whether HDMI 2 or HDMI 3 is working.
Use the remote control of your Toshiba TV and select the input button.
Then choose the HDMI port with which your Toshiba TV is connected.
If the input button is unavailable on your TV's remote, then press the home button < Settings < Input.
After following the above steps, your Toshiba TV's no video signal hitch will be resolved.
FAQs:
Where is the Toshiba TV HDMI port?
On your Toshiba TV's rear, the HDMI port is located. Through HDMI ports or inputs, your Toshiba TV enables you to connect with numerous external media devices such as cable, DVD, etc.
How do I change the source on my Toshiba TV without a remote?
What is the difference between the HDMI input and output?
You can plug a Blu-Ray Player, DVD or gaming device, or any other device into your TV using the HDMI input. Just the opposite option is the HDMI output. The output enables you to send an audio or video signal to any device you want to plug in on its other end.
How do I know If my HDMI port is damaged?
If your TV's HDMI port is damaged, you will see glitching or distorted pictures, no sound or video output, a black screen, etc. The visibly loose, bent, or broken HDMI cable also signals that your TV's HDMI port is damaged.  
How to test an HDMI port?
On your device's HDMI port, spray compressed air. Now take the HDMI cable's one end, and insert it into the display. And insert the cable's other end into the source device. Now turn on your display device and set its input mode to HDMI.
Conclusion
So, optimistically, now you know the exact causes and solutions of all the major factors responsible for your Toshiba TV no video signal. If you detect any of the above hitches, you will solve them by yourself by following our above-mentioned fixing ways. 
If you fail to resolve it, don't feel shy to comment. Immediately our expert will help you.