When your Westinghouse TV keeps turning off randomly, certain settings may be activated unknowingly. Such as the sleep timer being turned on or the HDMI CEC is enabled. 
Also, if your Westinghouse TV is in energy-saving mode, the TV keeps turning off automatically. Degradation of the power supply, faulty power connections, overheating, or outdated software can also be the reason behind this.
So, if you are wonder about why my Westinghouse TV keeps turning off, read through this comprehensive article to get a solution guide. 
Table of Contents
Westinghouse TV Keeps Turning Off [11 Easy Solutions]
In this article, you can find all the possible reasons, as well as a well-proven solution to the TV, which keeps turning off issue. Without looking any further, go through every approach we have brought for your assistance. 
Note: You can also read how to fix the Westinghouse tv input source problem.
1. Restart Westinghouse TV
When Westinghouse TV keeps turning off on its own, before anything else, you have to restart your TV. Restarting or recycling will help your TV to get back to work.
How to Restart Westinghouse TV
Disconnect your TV from the wall outlet.
Leave it disconnected for a full 60 seconds 
Press the power button of your TV and hold it for 30 seconds while the tv is unplugged 
After 60 seconds, power up your TV, and your TV will restart.
2. Degradation In Power Supply
Westinghouse Smart TV keeps turning off on its own if there is any degradation of the power supply. Either the problem can be the damage to the electrical lines or tripped circuit breaker.
 Blown fuse, short circuits, or power surges are also the reasons behind the Westinghouse TV keeps turning off after 60 seconds issue.
Solutions:
Unplug your TV
Measure the voltage using a voltmeter if your TV is getting enough power 
Check for any damages to the power lines. Ensure there is no short circuit
Replace the fuse if it's burnt out 
Repair the tripped circuit breaker
Reset the surge protector 
3. Malfunction In Power Connections
If there are any malfunctions in power connections, your Westinghouse tv turns off randomly. It is highly possible that the power cord is damaged or there have loose connections, causing Westinghouse TV keeps going off.
Solutions:
Check the power cord if there is any damage. Replace the damaged power cords. 
Also, check out the power surge and extension cords before replacing your power cord
Clean the power port if there is any dust and debris 
Double-check the power connections to your TV. 
Make sure there are no loose connections.
If the issue is still persisting, plug your TV into a different outlet. 
4. HDMI CEC Is Turned On
HDMI CEC is a feature that allows devices to be connected and control each other over HDMI. For example, if your TV is connected to a Chromecast through CEC, your TV will turn on automatically when you turn on the Chromecast.
 It is convenient, but when it misbehaves, your Westinghouse smart TV keeps turning off by misinterpreted signals. 
Solutions:
Press the 'Menu' button from your remote or TV
Now to the 'Settings' 
Choose the 'System' option 
Select-'Control Other Devices (CEC)
Disable the CEC feature and press OK.
5. Sleep Timer Is Enabled
If your Westinghouse TV keeps turning off after 1 minute, your TV sleep timer may be on. So, when your Westinghouse TV randomly turns off, ensure your TV sleep timer is off.
Solutions:
Press the 'Menu' button and go to 'Settings.' 
Now select 'Sleep Timer' from the Settings menu
Select the 'Leave TV On' or 'Off' option 
Press 'Enter' to save your new setting
6. Activated Energy Saving Mode
Energy-saving mode is one of the common reasons why users face this issue. Westinghouse TV keeps turning off by itself when this mode is turned on unconsciously. TV keeps going off to save power if the energy-saving mode is activated. 
Solutions:
Access to the 'Settings' Menu 
Now select 'Power Mode' from the menu and 'Enter' it 
Select the 'Energy-Saving' option 
Now press 'Enter' to confirm your new setting
7. Outdated Software Version
Westinghouse Smart TV needs constant update software to work perfectly. Westinghouse TV keeps turning off after a few seconds if the TV is not updated with the latest software version. 
How To Update Software On Westinghouse TV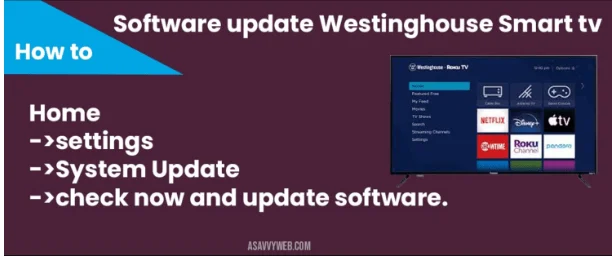 Press the 'Menu' button on the remote 
Go to the 'Setting' and press OK
Now navigate to the 'System' option 
Select 'System Update' and press OK
Now click on 'Check Now 
Once you press Check Now, your TV will start to check for firmware updates available for your TV.
If there is any, your TV will notify you >this version of the software update is available.
Now click on 'Update'. Your TV will turn off and turn on automatically once the upgrade is finished. 
8. Wi-Fi Issue
If your Westinghouse TV is connected to smart devices like Alexa, Google Home, or Logitech, it's possible that some automation is causing Westinghouse TV keeps turning off and on
Solutions:
Open your TV Settings
Disconnect Wi-Fi for some days 
If turning off Wi-Fi solves the issue, you can look through the other apps if any other one is causing the issue
9. Westinghouse TV Is Overheating
Overheating is another reason causing your Westinghouse TV to keep shutting off after a few seconds issue. To solve this problem, ensure there is no lacking of ventilation of your TV
Solutions:
Disconnect your TV from the wall outlet 
Clean all the dust from the back of your TV. You can use microfiber fabric for this purpose
Now make sure there is no blocking in the ventilation system causing your TV to overheat
10. Perform Factory Reset
Factory reset is the most efficient method of making a frozen TV work again. When you find no luck after trying all the troubleshooting methods, a factory reset can solve the issue of the Westinghouse Roku tv keeps turning off.
How Po Perform a Factory Reset on Westinghouse TV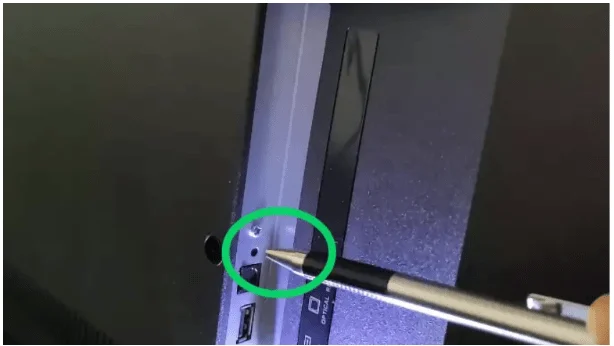 Turn on your TV 
Now go to the 'Menu' option either with the remote or the TV 
Navigate to 'Settings' and select 'General.' 
Select 'Restore Default.'
Your TV will reset to the factory default setting
You can also factory reset your TV by using the reset button on your TV. The reset button can be on the left or right side or on the bottom depending on your TV model.
Hold the reset button using a ballpen until you see the logo of your tv on the screen. 
And the factory reset is done.
11. Capacitors Failure
If your Westinghouse TV keeps turning off after 10 seconds, it can also be possible that the capacitors are failing.
Once the capacitors are failed, your TV starts showing malfunctions. You have to do nothing but replace it.
Solutions:
Open the back panel of your TV by unscrewing it 
Locate the motherboard in the middle of your TV
You can see cylindrical-shaped capacitors on the board. Now look for the visual damages like swelled up, popped up, or slightly bent. 
If there is any damage, be sure of capacitor's failure.
De-solder the bad capacitors and re-solder the new ones 
If you find it difficult, call for the expert's assistance. 
FAQs:
Is Westinghouse a good TV brand?
Westinghouse is a great TV for the price as it has awesome pictures and sound quality. The colors of Westinghouse TV are vivid, and the screen is very clear.
What is the code for Westinghouse TV?
There are 104 different universal remote codes for Westinghouse TV. These codes depend on the remote manufacturer you are trying to use in your TV.
How do I adjust the color on my Westinghouse TV?
Go to the Menu. Select Picture and then Advanced Options. Now choose the Color Temperature for simple options.  
Closing Thoughts
Hopefully, you won't find yourself in trouble anymore when your Westinghouse tv keeps turning itself off. We believe you can troubleshoot your TV after reading this short but efficacious article. 
Still, if you have any more quest, please be hurry to inform us. We are always ready to help you absolutely and entirely.