To solve your JVC TV's minor issues, you should first reset your TV. Using the remote, resetting the TV is easy, but you can also reset it without the remote. Thus you need to know how to reset JVC TV without a remote. 
Without a remote, the TV resetting methods are, soft and hard reset, resetting the TV using a mobile app, using HDMI and USB holes, and resetting the TV via contacting the customer care center.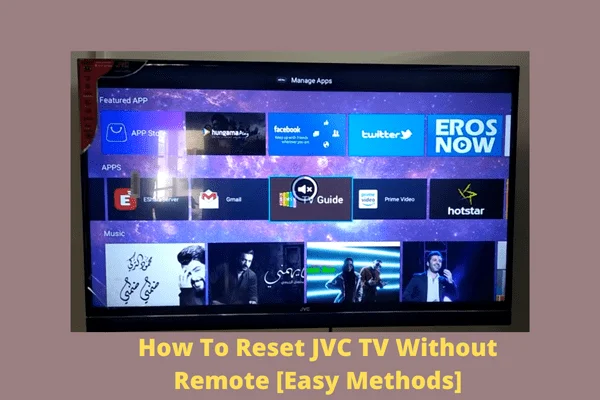 Throughout this article, we explained the ways how to reset your JVC TV without a remote. We also outlined the details of why you need to reset your TV without a remote, what you should do if the remote stops working, why your JVC TV requires a reset etc. 
So keep reading the following article. You will surely get to know how to restore your JVC TV's original setting without a remote. 
Table of Contents
How To Reset JVC TV Without Remote [5 Easy Methods]
You are operating your TV with a remote, but suddenly, your JVC TV not responding to the remote. In this situation, following the 5 effective ways, you can reset your JVC TV without a remote. Let's go through the details:  
Note: You can also read how to fix JVC TV turns on but black screen. 
Method 1: Soft Reset Your JVC TV
Conducting a soft reset on your JVC TV helps it to restore its original settings. The soft reset doesn't wipe out your TV's applications, previous settings, or other data. The resetting steps are:
Unplug your JVC TV from the power source
For 30 seconds, leave your TV in an unplugged condition
Now re-insert your TV's power cord again into the power outlet, and the reset process is done
Now turn on your TV and check whether it is functioning normally or not
Method 2: Hard Reset Your JVC TV
If your JVC TV goes through the same problem after the soft reset, you should now hard reset your TV.
Hard reset will erase your TV's previous applications, settings, and all memories. So you have to set your TV's settings again after the hard reset. Without a remote for performing this reset, follow the steps below:
From the electrical outlet, remove your JVC TV's power cord
Wait for 60 seconds and then plug back the cord into the power source and re-plug your TV 
Find out the control panel on your JVC TV (Usually, it is on the TV's side or back) 
Now for another 10 seconds, press and hold your TV's Volume Down and Menu button
While simultaneously pressing the Volume and Menu button, at that time also press your TV's power button and hold it
First, release your TV's power button but keep holding the other two buttons (Menu and Volume buttons) 
After 5 seconds, release the other buttons also
After completing the above steps, the Blue Power LED will appear on your JVC TV's lower left. Wait for 30 seconds and check whether your TV is still On. If your TV is On and a picture appears on it, then you can normally use it. 
Method 3: Resetting JVC TV Using Mobile App
Using the mobile remote app, you can reset your JVC smart TV without a remote. First, download the app and install it. Now use the mobile app to access your TV's settings menu. Follow the steps below to reset your TV using the app.
Go to Google App Store or Play store.
Search for the app option "Universal TV Remote Control."
Download this app first and then install it
Now open the app, and from the drop-down menu, choose the option "JVC." However, you can also type on the search bar to find JVC without scrolling.
Complete the entire setup process by following the prompts
On the On-Screen, select the Menu option.
Go to the following options Settings < System < Advanced System Settings.
Select the Factory Reset from Advanced system settings and command the option "Factory Reset Everything."
Method 4: Reset TV Using HDMI & USB Holes
So using the HDMI and USB buttons hole, you can also reset your JVC TV without a remote. You need to do the following: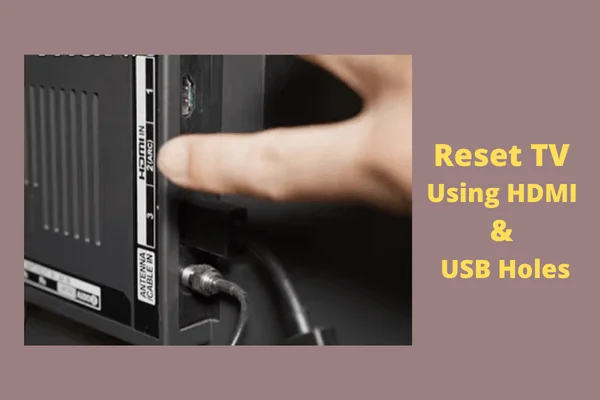 Look under your JVC TV; you will get a tiny hole between the HDMI and USB buttons. 
Get something like a toothpick and push off the TV with it in the hole. 
After pushing in the hole with a toothpick, hold it down and turn on your TV. 
As long as the logo doesn't come on your TV, keep pushing the toothpick in the hole. 
Once the logo appears on TV, hold it in the pushed situation for 1 minute, and your TV will reboot. This process will reset your TV. 
Method 5: Via Contacting The Customer Care Center Reset Your JVC TV
If you failed to reset your TV without a remote following the methods mentioned above, you could contact the JVC Customer Care Center for resetting your TV. Moreover, the customer care team can give you some additional resetting tips which will help your TV to restore to its original settings.
While contacting the JVC Customer Care Center, you must tell them your JVC TV's model number and seek help from them. Also, ask for your TV's replacement remote if possible.
Why Do You Need To Reset JVC TV Without A Remote
Sometimes, you may need to reset your TV without a remote for the following causes: 
Missing remote 
Broken remote control 
Dirty remote or dirt stuck in its buttons or dirty remote control battery terminals 
The remote is not working due to damaged or dead batteries or stuck buttons in it 
What To Do When JVC TV Remote Stops Working
If for any reason, your JVC TV remote stops working, you can fix your TV remote by resetting it.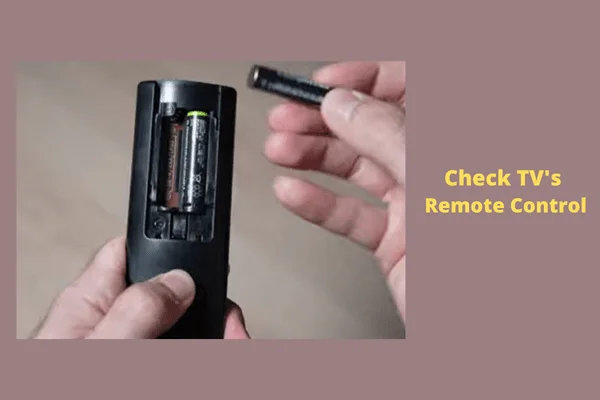 But before that, you need to know how to reset JVC smart TV remote. For resetting your TV's remote, follow the ways below: 
Method 1:
Check your TV's remote control and completely remove its batteries 
Now unplug the AC adapter on your TV, and for 1 minute, leave it unplugged 
After 1 minute, put the new batteries in the remote and re-plug the adapter 
Now check the remote control by turning on your TV 
If the above method fails to fix your JVC TV remote, go the other way. 
Method 2:
Take out your JVC TV's remote control's batteries 
At least twice press the remote's all buttons 
Pressing all buttons together will loosen the stuck dirt inside it. And your remote will start working again. 
Method 3: The Quickest Solution – Get A New Remote Control
Following all the ways mentioned above, you will be able to reset your JVC TV without a remote. But you may find all these methods tedious.
So the quickest solution is to get a new remote for your JVC TV. If your TV model's remote control is unavailable, you can buy a universal remote from a trusted brand. 
Why Do You Need To Reset Your JVC TV
Whenever your JVC TV faces any problem, the quickest way to solve it is to reset it instantly. Thus you need to know how to reset JVC TV. However, you may require to reset your TV for the following reasons: 
TV's Black Screen: If, after turning on your JVC TV, it produces sound, but there is no picture in it, you should perform a hard reset to fix it. 
JVC TV Stuck On Logo: Appearing the JVC logo on TV is normal, but your TV will not function properly if it remains stuck. Clear the stuck logo by resetting your TV. 
TV's Sound Problem: Whether there is no sound, buzzing sound, or audio noise in your TV, instantly reset your TV to resolve it. 
TV's Power Light Blinking: If any bugs, glitches, or software error causes your JVC TV's power light blinking issue, reset your TV to eliminate these troubles. 
FAQs:
How do I connect my JVC TV to Wi-Fi without a remote?
First, connect the mouse and USB keyboard to the TV. Go to the Wi-Fi settings on the TV using a mouse and connect the TV to your Wi-Fi network.
What app can I use for a TV remote?
You can use the Android TV Remote Control App for your universal TV remote.
How do you pair remotes?
Use the available remote controls to pair remotes and press the "Home" button. Navigate to Setting < Network & Accessories< Touchpad Remote Control Settings. Now select the option "Touchpad Remote Control" and then follow the other on-screen instructions.
Bottom Line
So, after going through the above well-explained article, now you surely know how to reset JVC TV without a remote. We presented the A-Z details of resetting a TV without a remote.
Hopefully, you will reset your TV by yourself even if something happens to your TV remote. Comment and let us know whether you succeed or not.